I haven't done a Christmas bird count in more than 30 years. But on December 19, 2009, I'll be fixing that. Carp is going to have its own count this year, thanks to the efforts of Rob Denholtz, one of my fellow salt marsh docents, and I can't wait.
I set up some Google maps of the count circle, and have been scouting likely locations. Last Saturday I had a really thrilling day of birdwatching. I started before dawn at Carpinteria Creek, then went into the normally-inaccessible part of the salt marsh with Peter Gaede and Andrea Adams-Morden (more about that in a future post), and then got to do something really special.
I've talked before about Santa Monica Creek. The lower, channelized part of the creek runs through my neighborhood, but upper Santa Monica Creek, which is not channelized, is a little harder to visit. It runs though Rancho Monte Alegre, which used to be a working ranch, but now is owned by RMA Partners, a development firm that is building a number of high-end houses there. A few years ago RMA Partners got together with The Land Trust of Santa Barbara County and The Trust for Public Land, and placed more than 3,000 acres along upper Santa Monica Creek into a permanent conservation easement controlled by The Land Trust.
Eventually there is supposed to be public access to the area via a series of trails, but for now one can only visit it by special arrangement. With the upcoming Christmas count as my incentive, I got in touch with Tad Buchanan at RMA Partners, and he agreed to let us enter the parcel for a scouting trip, and again on the count day. Last Saturday we did the scouting trip.
It's beautiful. Here's the view we had as we started hiking up the dirt road that parallels the creek: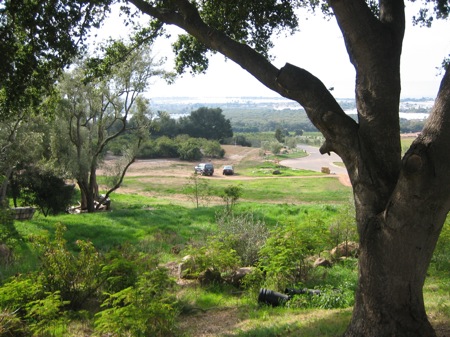 One of the neat things about the trip was that Peter Gaede came along. Peter is one of the best birdwatchers I've ever met; I always learn a lot when I get to go birding with him. Do you think he's excited about getting a chance to check out habitat that hasn't been actively birded in years, maybe decades?
Here are all my companions from the scouting trip. From left to right, that's Peter Gaede, Andrea Adams-Morden, Geoff Stearns, and Rob Denholtz. They're enjoying the view of the salt marsh, which was at a max high tide of about +6.3 at the time.
We saw lots of birds (naturally) but the most exciting thing we saw (for me at least) were all the fresh tracks on the road. Along this one stretch of road there were tracks of coyote, roadrunner, weasel, bobcat, and bear — two of them, a mother and her cub, I assume. That's mama bear's track on the left, and baby bear's on the right:
This old cabin was just a few yards from the creek: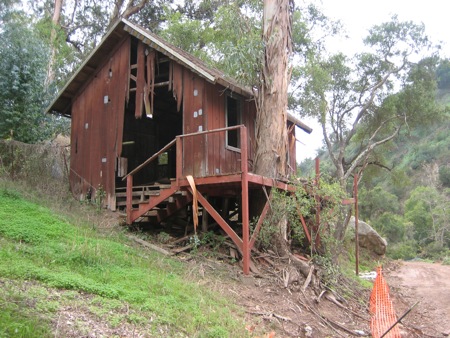 Finally, here's some really nice riparian habitat where I know we're going to get some great birds on the count day: